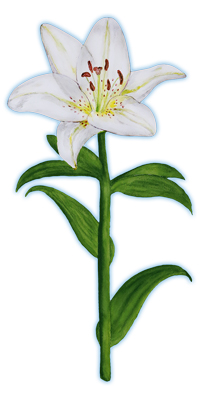 The Tent of God Among the People for All the Nations of this Earth
The Tent of God has been built and will be further expanded for people of the free Spirit from all the nations worldwide.
We are at the beginning of the Messianic and Sophianic Age, the Age of the Lily. This is why the Tent of God Among the People is under the Sign of the Lily. The Sign of the Lily signifies the purity, the love and the divine Wisdom.
The way to the lily is the following: sincerity, honesty, loyalty to the word of God, the law of purity and love.
The Free Spirit.
Followers of Jesus, the Christ, from all over the world are saving and gathering their savings so that the Tent of God Among the People can be expanded and maintained according to their possibilities.
With all our heart, we are thankful for the many drops towards a heavenly building. They make it possible for us to go right to work. By way of a bank transfer, we have only a few addresses by which we may give our thanks and send a small gift.
We will keep these with us, and when you have a chance to come by, please pick up your small thank you gift at the Sophia Library.